This is the new Mercedes B-Class which the carmaker says is more agile and comfortable than the model it replaces with some innovative technology on board too.
Along with active state of the art safety and driving assistance systems, there's also the firm's 'Hey Mercedes' voice control system.
The interior is more spacious with a fresh design with sales starting from December and deliveries beginning next February.
Efficient engines for the Mercedes B-Class
There are new efficient engines for the Mercedes B-Class including a debut for the transverse-mounted 2.0 litre diesel unit producing 110 KW or 140 KW.
Mercedes is also offering the B-Class with two 1.3 litre four-cylinder petrol units producing either 100 KW or 120 KW.
From launch, the B-Class will feature a dual-clutch transmission and an eight-speed automatic gearbox and other engines will be unveiled in the future.
New Mercedes B-Class delivers more agility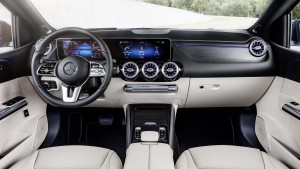 The new Mercedes B-Class delivers more agility and comfort with different suspensions available including active adaptive damping and a lowered comfort suspension. It's also possible to optimise the damping rate for each wheel.
The driving assistance systems help make this vehicle a safe one to be in and, for the first time, the B-Class has some semi-autonomy, which is an increasingly popular choice for drivers.
The system utilises radar and camera systems to anticipate the traffic in front of the vehicle and use map data to help the driver to drive the car.
There's an option for the Driving Assistance package with one feature adjusting the speed when approaching junctions, bends and roundabouts by using the navigation and map data.
Get this car on personal contract hire
Standard equipment includes active brake assist so the vehicle will automatically brake when it detects cyclists, pedestrians or other obstacles in the road ahead.
Other kit includes satnav with augmented reality technology, a high-resolution widescreen cockpit and a head-up display is available.
The car also has vehicle tracking so it's easier to find when parked and there's a car sharing app available to help connect users and find them when necessary.
The new Mercedes B-Class has a lot to recommend it, with high comfort levels and a long list of equipment to make this a sound choice for those wanting style and safety plus the prestigious badge.