In the booming all-electric car market, UK drivers have the choice of a new entrant: the impressive all-new Kia e-Niro.
The car delivers a range of up to 300 miles with a high capacity 64 kWh lithium-ion polymer battery.
The e-Niro manages to combine crossover practicality and space with efficient electric power.
It helps too that electric energy is harvested and conserved by the car using innovative technologies.
Kia e-Niro is an all-electric crossover vehicle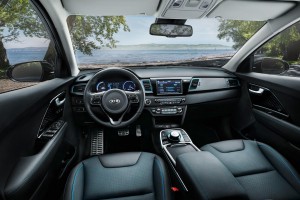 While the all-new Kia e-Niro is the first all-electric crossover vehicle produced by the carmaker it delivers an eye-catching design and zero emissions.
Kia says this is will be the world's most capable electric vehicle.
The Niro range is also available with hybrid and plug-in hybrid variants and they've shifted more than 200,000 units around the world in less than two years.
However, this all-electric model differs in several ways from its siblings, including exterior design tweaks such as redesigned air intakes and blue trim highlights for the LED daytime running lights.
Kia e-Niro has been well-designed
The cabin for the Kia e-Niro has been well-designed and again has changes to the rest of the range and it helps that with an all-electric powertrain there's no need for the usual gearstick and the gear linkage.
The transmission has been replaced with shift-by-wire and the selector for driving modes extends from the centre armrest.
This panel is also home to the switches for the electronic parking brake and also for the ventilated and heated seats, parking sensors and heated steering wheel.
Depending on the model, the Kia e-Niro comes with either leather or synthetic material upholstery.
For those worried about running out of charge, there is a useful system to help drivers locate the nearest charging point using the 7-inch touchscreen in the dashboard. This screen also monitors the remaining range and electric charge.
Get this car on personal contract hire
It's also nice to see that the driver can see how much CO2 they are saving compared to a similar size petrol car.
As with other all-electric vehicles, the Kia e-Niro also enables a pre-journey warm-up so the cabin and the motor will help preserve the battery charge from a cold start and let the owner enjoy a warm cabin.
Essentially, the Kia e-Niro offers anyone who may be interested in a crossover SUV and powered by a diesel or petrol engine to give this model a closer look since it should meet most people's needs for the commute and for long journeys.
The Kia e-Niro goes on sale at the end of the year and will still have the firm's 100,000 miles or seven years warranty as standard, which also, unusually for a manufacturer, covers the electric motor and battery pack.
The All-New Kia e-Niro