It's been hailed as the most technically advanced SUV ever made by the firm and the new Mitsubishi Outlander PHEV certainly deserves its plaudits.
After being launched in 2014 in the UK, the plug-in hybrid was a big sales success driven by a growing demand from buyers wanting a green vehicle.
By November 2015, the firm had sold more than 50,000 of these vehicles in Europe and by January this year, sales passed the 100,000 milestone.
Indeed, it is the bestselling hybrid in Europe from 2015 to 2017 and it's still the bestselling plug-in hybrid or electric vehicle on sale in the UK.
Mitsubishi Outlander PHEV has been given a refresh
The Mitsubishi Outlander PHEV has been given a refresh in its design and the new model features a new front grille and headlight system. There are also new bumpers and rear spoiler.
However, it is for the improved level of performance that really help this SUV stand out from the crowd with a new 2.4 litre petrol engine and a battery capacity that's been increased by 15%.
This means the power output from the battery is 13.8 kWh and the PHEV's operating system has also been upgraded – the all-electric range is an impressive 28 miles.
Mitsubishi have also introduced an all-wheel control system with new Sport and Snow drive modes.
There's also better body rigidity and lots of structural adhesive welding to make this a strong vehicle and the re-calibrated suspension helps deliver an improved ride.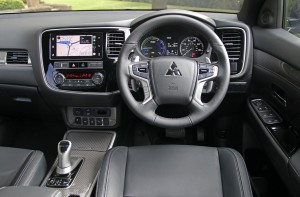 New Mitsubishi Outlander PHEV is packed with equipment
The new Mitsubishi Outlander PHEV is also packed with equipment including rain sensing wipers and automatic headlights, a reversing camera, seven air bags and an electronic parking brake. There's also a 360° camera which features rear cross traffic alert.
One of the reasons that the Mitsubishi Outlander PHEV has been so popular is that this is an SUV that does not compromise for being a hybrid.
So, if you're looking for practicality in a well-equipped SUV, then it's equal to its competitors.
Get this car of personal contract hire
Also, the vehicle's battery pack does not compromise its dynamics or use a large amount of boot space.
With more drivers looking for sustainable vehicles, the Mitsubishi Outlander PHEV offers a real world all-electric driving range that is in excess of the usual daily commute for most drivers and this is a sound vehicle to switch to.