It's the most capable full-size SUV that they've ever produced, which means the new Mitsubishi Shogun Sport has a lot to live up to.
Along with genuine off-road performance, there's lots of equipment and safety technologies on-board which work well with Mitsubishi's toughness and reliability.
The front end has been redesigned to limit water splash when off-road and the aerodynamics have been improved to reduce air resistance and lift.
Mitsubishi Shogun Sport's driving dynamics
However, it's the Mitsubishi Shogun Sport's driving dynamics that helps to set it apart from rivals with surefooted handling, whether on- or off-road with improved refinement and insulation.
Mitsubishi says the Shogun Sport delivers all-terrain performance and there's a terrain control system to ensure the driver never loses control.
It helps that the four-wheel-drive system has rear differential lock and a new eight speed automatic transmission, which is only available for the Shogun Sport, helps control the power.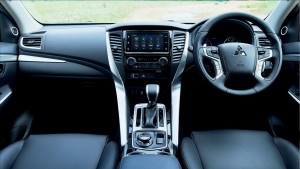 Features for the Mitsubishi Shogun Sport
Other features for the Mitsubishi Shogun Sport include a reversing camera with rear parking sensors, rain sensing wipers and traction control, plus autonomous braking assist.
Other safety features include a 360° view camera on some models, along with forward collision mitigation and adaptive cruise control.
There's also blind spot warning and a miss-acceleration mitigation system and the Shogun Sport also delivers a well-designed environment with supportive seats.
Get this car on personal contract hire
There's also flexible seating for up to seven people, plus their luggage, and the seats are made with premium leather and on some models the front seats are electric to make them easier to adjust.
The new Mitsubishi Shogun Sport is the firm's flagship off-road vehicle and for those who need a stylish car for everyday use with incredible off-roading talents, then this vehicle is for you.