A completely freshly redesigned Audi A1 Sportback will be available to order from September and drivers will get their hands on them from November.
The redesign is from the ground-up with a new TFSI engine range offering various capabilities and power outputs of up to 200 PS.
There's also new driver assistance systems to boost comfort and safety levels.
Audi has been proud of its A1 since launch which has tackled the premium subcompact segment with a hatchback that will perform well in urban environments but also be comfortable on long journeys.
Second-generation Audi A1 Sportback
Now the small second-generation Audi A1 Sportback is a successful creation that comes in a five door trim and offers dynamic new styling.
It's also a slightly longer car than the model it replaces but it has the same width and offers more room in the cabin as a result.
There are also various nods to the firm's quattro ancestry, particularly when viewed from the side and the car's contrasting roof line.
This is available in two dark colours which end above the C-pillar and help to give the impression that the roof is flatter than it is.
From launch, there will be a range of trims and an S line spec model has larger air inlets, two fins and additional sill trims among the attractions.
As with all the latest Audi's, the cabin design is driver-focused with everything within reach.
Even the entry level model has a fully digital instrument cluster that has high resolution and a 10.25 inch display as well as a multi-function steering wheel.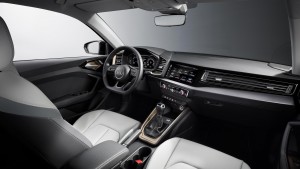 Powerful engines for the Audi A1 Sportback
While latest design is to be enjoyed in urban environments, there are efficient and powerful engines for the Audi A1 Sportback and all the engines have direct injection, turbocharging and a particulate filter fitted as standard.
From launch, there will be three engines available; a three cylinder 1.0 litre unit producing 116PS, a four-cylinder 1.5 litre engine producing 150PS and a 2.0 litre TFSI unit producing 200PS. This larger engine also has torque of 320 Nm to deliver excellent levels of performance.
Get this car on personal contract hire
The driver assistance systems help keep the A1 at the top of its game and includes standard lane departure warning and the firm's pre-sense front system which uses a radar sensor to detect when There may be an impact with other vehicles or pedestrians and even help when visibility is poor, such as driving in fog.
The system uses visual and acoustic signals to help warn the driver about a potential hazard and prepares for possible full brake application.
However, the all-new Audi A1 Sportback also delivers a new chassis, so there's agile handling to deliver a great driving experience.