This is the striking Audi Q8 which will make its world debut soon.
Along with its elegant interior, drivers will also benefit from high-tech navigation and touch operated screens.
The new four-door luxury coupe looks similar to the concept model unveiled last year and will be seen on our roads in a few months with a variable luggage compartment, various suspension and driving technologies as well as intelligent assistance systems.
Engines for the Audi Q8
From launch, engines for the Audi Q8 will include a six cylinder 3.0 litre TDI unit that produces 286 PS and will sprint from 0 to 62 mph in just 6.3 seconds. Its top speed is 144mph.
The engine delivers torque of 610 Nm and Audi says there will be a smaller 3.0 litre diesel unit from the beginning of 2019 that produces 231 PS and there will also be a 3.0 litre TFSI petrol unit producing 340 PS. There are also plans to unveil a mild hybrid choice for the Q8 which will also use the 3.0 litre TDI engine.
Audi Q8 has an S line specification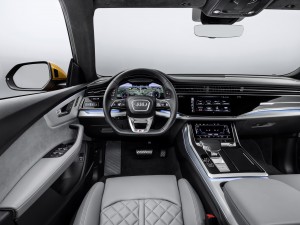 The Audi Q8 also has an S line specification which includes 21 inch alloy wheels, HD Matrix Led headlights and adaptive air suspension fitted as standard.
Also, soon after the official launch, there will be a top end version, known as the Vorsprung, which has dynamic four-wheel steering, head up display, 22 inch alloy wheels and a full leather package.
Since the wheelbase measures nearly 3 metres in length, there is plenty of space on board for five people and the interior space is larger than most of its competitors. There are plenty of storage compartments and a big luggage area which is 605 litres in size but this extends, with the rear seats folded down, to 1,755 litres.
Get this car on personal contract hire
The Audi Q8 also promises decent off-roading performance with its rear and front suspension that's made mainly from aluminium with useful transmission ratios which alter as the steering angle increases.
The adaptive air suspension with controlled damping has four modes to deliver the best level of dynamic handling and will vary the ride height of the vehicle by up to 90 mm.
One of the options is for all wheel steering which will turn the rear wheels when necessary by up to 5°, at slow speeds the rear wheels will steer in the opposite direction to the front wheels which will help reduce the vehicle's turning circle.
Packed with kit, the new Audi Q8 offers a great driving experience around town and out on the open roads with a well-designed interior with little in the way of buttons and knobs but there are excellent assistance systems, including cross traffic alert, to help protect the Audi and its occupants while driving around town and at speed.