The Ford Mustang has been a huge sales success and performance will be improved among a raft of upgrades that the Blue Oval have announced.
Perhaps the best one is the introduction of 'active valve performance exhaust technology' for those Mustangs fitted with the firm's 2.3 litre EcoBoost engine.
With the new system, a driver can adjust the exhaust note intensity to one that suits their mood or surroundings. This feature was only previously available for the V8 models.
There's also new rev-matching technology to help deliver smoother downshifting which will feature a sporty blip of the engine and this will be fitted as standard to the Mustang having the V8 5.0 litre engine. For those who opt for the 2.3 litre EcoBoost unit, they'll find the engine delivering 290 PS and 440 Nm of torque while returning around 32 mpg with emissions of 199g/km – when coupled to the six speed manual box.
'Transient overboost' function for the Ford Mustang
Drivers can also enjoy a more engaging driving experience with a 'transient overboost' function for the Ford Mustang's turbocharger and this is triggered when the engine is put under heavy acceleration to deliver an extra burst following every upshift of the gears.
For those who like quality sound, there's also a top end premium audio system that uses 12 high-performance speakers to deliver 1,000 W of audio power.
Drivers also get My Mode which is a fully customisable option which is set using the 12-inch LCD instrument panel and also via the standard 4.2 inch instrument cluster.
Ford Mustang GT featuring the 5.0 litre V8 engine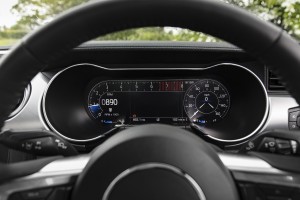 Indeed, the Ford Mustang GT featuring the 5.0 litre V8 engine is the best-selling the V8 sports car and last year Ford shifted more than 1,500 models to UK buyers.
The larger engine also features a quad tail pipe design that's not just stylish but adds to the overall muscle car stance.
The new active valve performance exhaust settings can be adjusted by the driver using the vehicle's drive mode which include normal, track, sport and snow/wet. There's also a new drag strip mode available – should you need it for the country's traffic-choked roads.
There's also a quiet mode that will automatically limit the exhaust noise output at preprogrammed times to help avoid disturbing neighbours.
Get this car on personal contract hire
There's also a wider range of colours to choose from including the heritage inspired Need for Green and Velocity Blue. There's also a special edition Mustang available in Dark Island Green.
The new Ford Mustang featuring the 2.3 litre EcoBoost engine will cost from £36,645 while the V8 5.0 litre GT model will cost from £41,745.