The impressive new Volvo V60 will have four trim levels when it's launched in July and demand is likely to be high for an excellent creation.
It's available to order now with first the first deliveries coming in late autumn and prices for the premium mid-size estate start at £31,810.
For the money, there's lots of equipment, more connected services and some 'world first' applications.
Engines for the Volvo V60
Engines for the Volvo V60 include a range of efficient petrol and diesel units; for the diesel choice there is a D3 producing 150 bhp and a D4 producing 190 bhp. The petrol engine will be a T5 unit producing 250 bhp.
It helps that the D3 has emissions from just 117g/km to make it a tax efficient choice though Volvo has also announced it is phasing out the production of diesel engines for its cars.
All of the engines are efficient and powerful and have been designed and built by Volvo. The engines consist of three and four cylinder 2.0 litre engines with the likelihood of hybrids and another petrol engine being introduced over the next year.
There's a choice of either an eight speed automatic gearbox or six speed manual though the petrol unit has an eight speed automatic transmission fitted as standard.
The fuel economy for the D3 and D4 engines is 64 mpg while for the petrol engine the economy is 44 mpg.
Kit list for the  Volvo V60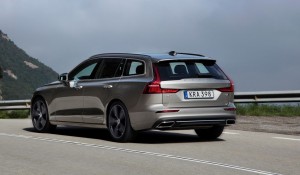 Among the kit list for the Volvo V60 is a 9-inch touchscreen for the infotainment system along with a voice-activated control system plus satnav, LED headlights and a power-operated tailgate.
Every model will also feature the firm's 'On Call' innovative connected services platform.
Other world first applications for the Volvo V60 include a 'city safety' automatic emergency braking system to help mitigate the potential for oncoming collisions.
There's also the firm's semi-autonomous driving function, Pilot Assist, that's available across the range.
Get this car on personal contract hire
This is the second generation of the V60 and is based on the same platform as the firm's award-winning XC60 SUV.
Along with lots of equipment, there's also plenty of luxury in the car which includes a 'clean zone' air quality system and rear parking sensors.
There's also leather upholstery for the top end trim with powered front seats with memory function, driftwood interior inlays and a chrome exterior trim being added.
In future, the carmaker says that the new Volvo V60 will also feature a rugged cross-country variant and a dynamic R Design model for those who enjoy speed and improved handling.