It is one of the most stunning road cars available and the Lotus Exige Sport 410 will set pulses racing. It's available in Roadster and Coupe configurations.
The new model has been developed from the firm's Exige Cup 430 which is a track-focused creation.
This has resulted in cracking performances that will see the Sport 410 sprint from 0 to 62 mph in just 3.3 seconds from an engine that produces 410 HP.
The performance comes from the car's dry weight from 1,054 kg and 420 Nm of torque.
Lotus Exige Sport 410 features a 3.5 litre V6
The Lotus Exige Sport 410 features a supercharged 3.5 litre V6 which delivers a weight ratio of 389 per tonne – a class leading figure!
The top speed of the car is 180 mph in Coupe configuration which equals the performance levels of the excellent Exige Cup 430.
The car's design also sees it generating 150 kg of downforce thanks to the front clam panel which has wider grilles, front splitter and carbon fibre air curtains.
Behind the wheel, the Lotus Exige Sport 410 delivers an exceptional driving experience with lightweight agility and strong handling characteristics.
The aim is to deliver the maximum levels of enjoyment with good steering feedback whenever the car is taken out.
The new car also takes the suspension, chassis and dampers from the race version and retunes them to deliver a stronger road bias that suits the car's aerodynamic setup.
Get this car on personal contract hire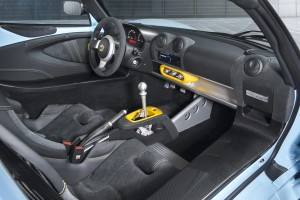 There are a number of options for the Sport 410 including a full titanium exhaust system, visible weave carbon fibre components, seat covers along with fire extinguisher controls and electrical cut-off.
There's also the FIA compliant roll cage, four-point harnesses and a non-airbag steering wheel.
The manual gearbox delivers quick and precise changes while the firm's carbon fibre sport seats grip the driver while the car is being put through its paces.
For those who are interested in the Lotus Exige Sport 410 they will have an impressive road-going version of an excellent track car.
This is a video from Lotus showing its excellent Exige Cup 430 – the basis for the Sport 410: