This is the all-new Jaguar I-Pace which joins the Pace family and, the carmaker says, it's the car everyone will want to drive.
Along with an aero-efficient design, there's plenty of space on board for five people and their luggage and Jaguar says it has been specifically designed to be an impressive electric vehicle from the outset.
They say the new vehicle will be at the front of the world's electric vehicle revolution with all-wheel drive performance from two Jaguar designed motors that will deliver a 0 to 62 mph speed of 4.5 seconds.
That's down to the motors delivering a combined 696Nm and 400 PS.
Battery for the all-new Jaguar I-Pace
The battery for the all-new Jaguar I-Pace is a lithium-ion 90 kWh with a range of up to 298 miles.
There's also a satnav system that ensures that the range is optimised to deliver the best journey.
Charging to 80% of the battery's charge can be done in 85 minutes with a rapid public charging point, while a 30 minute charge will deliver a range of 80 miles.
Jaguar is also looking to the future and says the I-Pace will be compatible with the new 100 kW chargers that are being rolled out around the UK.
Performance for the all-new Jaguar I-Pace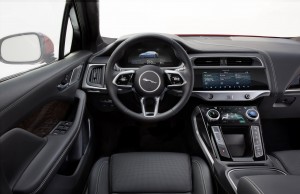 The performance for the all-new Jaguar I-Pace will, the carmaker promises, be sports car-like with engaging driving dynamics and exceptional ride and comfort.
Part of this is down to the bespoke aluminium architecture so the body is stiff and light.
The firm also says there is no other vehicle on the road that will drive or look like the I-Pace.
On-board, there are innovative touchscreens, tactile physical controls and sensors to help deliver an impressive driving experience.
There's also an Alexa enabled device so the driver could ask the car whether there's enough range left in the battery for them to get to work, for instance.
Get this car on personal contract hire
The new I-Pace also uses artificial intelligence to tailor the car's performance to an individual driver's own preferences and software updates will be done wirelessly.
One of the big attractions is the zero tailpipe emissions so owners should be able to enjoy lower road tax and reduce congestion charges.
The all-new Jaguar I-Pace comes with an eight-year battery warranty with a two year or 21,000 miles servicing intervals. Available to order now, the I-Pace will cost from £63,495.