It's entering a competitive market segment and the new Renault Megane RS offers a lot for those wanting an impressive 'hot hatch'.
The Renault Megane RS was unveiled in September last year and hot hatch fans have been looking forward to its launch eagerly.
However, it's up against the impressive new Honda Civic Type R as well as the stylish Seat Leon Cupra.
The Renault Megane RS engine
It helps that under the bonnet, the Renault Megane RS engine produces an impressive 276 bhp from the 1.8 litre turbocharged four-cylinder unit. The firm has removed the popular 2.0 litre turbocharged engine from the RS.
Renault says that the Megane RS will see fuel economy of around 34 mpg with emissions of 155g/km.
The engine is mated to a choice of a six speed dual clutch automatic transmission or six speed manual box.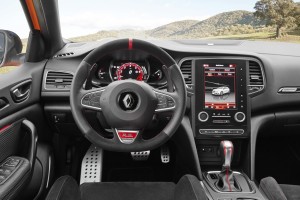 All-new Renault Megane RS is based on the standard sibling
While the all-new Renault Megane RS is based on the standard sibling's five-door hatchback, the body has been stretched by 60 mm at the front and at the rear by 45 mm.
There's also a front blade at the front with chequered flags LED flog lights in the bumper design.
It helps that there are air vents on the front wings to boost airflow around the car's front when travelling at high speed.
The Renault Megane RS has aggressive styling and there is a central exhaust within the rear diffuser.
There is also, fitted as standard, 18 inch alloy wheels and the option of the larger 19 inch wheels.
Get this car on personal contract hire
The new Renault Megane RS also has five driving modes which are accessed from the car's digital display and will alter the throttle, steering and transmission set-up.
Drivers will also have an RS Drive button that offers a helpful shortcut to the Race and Sport modes.
Renault says its new offering also delivers a first for the segment with a new four-wheel steering system that boosts agility when travelling at low speeds and better stability at high speeds which is fitted as standard to every model. There's also lots of standard kit including a reversing camera, adaptive cruise control, rear and front parking sensors as well as a hands-free parking function.
The all-new Renault Megane RS will be available from spring and while the carmaker has yet to confirm official prices, for those interested then the prices should start at less than £30,000.