For any driver wanting power, sportiness and the very best in luxury then the Bentley Bentayga is worth a close look and the V8 version delivers practicality too.
Underneath the bonnet there is a twin turbocharged 4.0 litre petrol engine that produces 542 bhp and impressive torque of 770 Nm.
This amount of power helps propel the Bentayga from 0 to 62 mph in just 4.4 seconds and on to a top speed of 180 mph. The car should return around 25 mpg.
Bentley Bentayga V8 engine delivers a roar
The Bentley Bentayga V8 engine delivers a roar and burble when accelerating to give it a rewarding sound.
There are also twin quad tailpipes to help underpin its sporty stance and the world's largest, apparently, front braking system with optional carbon ceramic brakes – for the weight of the car these are probably recommended.
It's been a popular model since launch and has set a new benchmark in the luxury SUV segment so the new Bentayga V8 should find plenty of buyers.
It helps too that Bentley's 'drive dynamics' system helps deliver a rewarding experience behind the wheel so it's easy to switch from sporting precision to more comfortable levels of driving refinement.
Bentley Bentayga is packed with luxury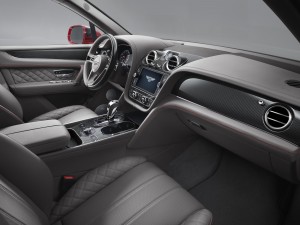 The Bentley Bentayga is packed with luxury with an impressive interior that reflects the carmaker's approach to luxury driving with advanced technologies and handcrafted materials sitting nicely alongside each other.
The V8 features a carbon fibre panel finish for the interior and economy is also boosted with the ability to deactivate four of the Bentayga's eight cylinders – depending on conditions and without having to compromise the drive.
The switch off is so quick, it's just 20 milliseconds, drivers will probably not notice.
Get this car on personal contract hire
The new model also has some exterior tweaks to its styling but it still offers the unmistakable style of Bentley.
Along with sporting red brake calipers for the rear and front brakes – the calipers are resistant to high temperatures – and help underpin the sporting ability of this SUV.
Bentley also highlights that the option of carbon ceramic brakes, a first for the firm, is the largest for any production car and the most powerful ever fitted by the Bentley on any production car.
Also, it's worth mentioning that the V8 comes with multi-mode air suspension so drivers can tackle a range of off-road surfaces from mud to snow and sand with the descent control system keeping the vehicle in check on steep gradients.
There's no doubt that the Bentley Bentayga V8 is an impressive creation and there is a lot to recommended it and for anybody wanting a stylish and luxurious SUV, there is little that can beat it.