With growing demand for electric cars in the UK, the impressive new Nissan Leaf will soon be on our roads with prices starting at £21,990.
That figure includes the government grant to encourage the take-up of electric cars worth £4,500 and that is for the well-equipped entry Visia model.
The range topper will cost from £27,490, including the grant, for the Tekna trim which is packed with equipment.
New Nissan Leaf offers a major upgrade
The all-new Nissan Leaf offers a major upgrade over the model it replaces with fresh styling and more technology including the firm's ProPilot system for autonomous driving.
There's also a higher capacity battery which has been boosted by 50% to increase the Leaf's range to 235 miles. The battery's power has been boosted by 38% to 150 PS.
Even with these enhancements, the Leaf is still £1,500 cheaper than the model it replaces.
The new Nissan Leaf is the first of the firm's line-up to get its autonomous ProPilot technology and also an e-Pedal so drivers can start, decelerate and accelerate as well stopping by simply using the accelerator pedal's pressure to increase or decrease the car's speed.
All-new Nissan Leaf's ProPilot system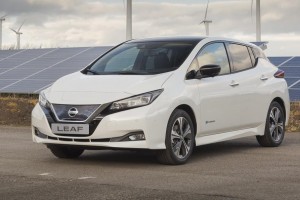 The all-new Nissan Leaf's ProPilot system will enable the car to automatically control the distance it sets itself from the vehicle in front and help steer the car to keep in the centre of lanes. Nissan says this function will significantly improve the driving experience on the motorway and in heavy traffic.
ProPilot can be activated by pushing a button and there's an auto parking feature which uses advanced image processing and four hi-res cameras to help guide the Leaf into a parking space.
Since 2011, Nissan has shifted 85,000 units in Europe and they've invested heavily in their Sunderland plant for the new production to begin.
Get this car on personal contract hire
The new Nissan Leaf is also picking up awards already for its 'vehicle intelligence' as well as the self-driving technology. It's also attracting attention for its abilities as an all-electric car.
The Leaf is the world's bestselling electric car and there's no doubt that the new generation will help boost its popularity even further as drivers become increasingly attracted to the all-electric vehicle possibilities.