The third generation of the Mercedes CLS is an excellent creation will reach our shores in March next year.
The all-new model is a distinctive Mercedes and reflects the car's design icon status.
Indeed, with its stylish character marked with the grill contour and the forward slanting front section as well as the low set headlamps, the car will become a regular feature on our roads.
The car is also packed with technology and the four-door coupe has high comfort and refinement levels.
Engines for the Mercedes CLS
The engines for the Mercedes CLS include new units featuring in-line six cylinders and eventually in-line four-cylinders for the petrol and diesel options.
Among the units available from launch, are the CLS 350 d 4Matic which has a 2.9 litre engine that produces 286 bhp with torque of 600Nm and has emissions of 148g/km.
There's also the CLS 400 4Matic with an engine producing 340 bhp with the same level of emissions and the CLS 450 is fitted with a 3.0 litre unit to deliver power of 367 bhp and emissions of 178g/km.
The diesel units also feature two-stage turbocharging and the use of Camtronic variable valve lift control which, Mercedes says, is a first for its cars.
Fuel economy for excellent levels of performance is around 42 mpg but this drops for the larger engine to 31 mpg.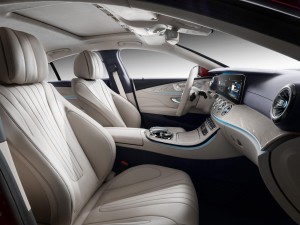 Features for the Mercedes CLS
Among the features for the Mercedes CLS is a promise from the carmaker of an office 'that goes mobile'. The office idea enables the driver to access important data as if they were behind their desk.
The CLS also promises comfortable long distance journeys with a range of features including a climate control system that has fragrances, heated seats as well as musical and lighting atmospheres.
As with all new Mercedes cars, there's a lot of impressive equipment including the latest generation of assistance systems such as speed limit assist, a pre-safe system which prepares occupants for an impact and options include 'driver assistance plus' which features active steering assist, active brake assist and speed limit assist.
Get this car on personal contract hire
Indeed, there are many features on the CLS that also are standard on the new Mercedes S Class such as the improved radar and camera systems so the CLS has a better view of its surrounding traffic.
The car will use navigation and map information to help calculate driving behaviour and there's a new head-up display featuring the car's data.
Some drivers may also enjoy a system that will automatically stop and start when moving in motorway traffic but only when the traffic is particularly slow.
Essentially, the new Mercedes CLS is an impressive offering with prices being revealed closer to its official launch date.