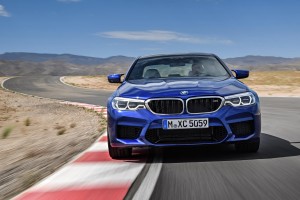 This is the incredible, new sixth generation of the BMW M5 which will be launched in February 2018.
It's equipped with an enhanced V8 4.4 litre engine with twin powered turbo technology.
BMW says this M5 is the most advanced version yet of the V8 engine and it has also been fitted with the M xDrive system to deliver all-wheel traction capability and better driving dynamics.
The M5 also features a new eight speed M Steptronic gearbox for quick gear changes.
New BMW M5 will be the best yet
For a car that sparked the high-performance super saloon genre, the new BMW M5 will be the best yet and take the car to new peaks of performance.
Most of this is down to the xDrive which provides the grip for excellent levels of performance and a central control module that will enable the driver to select different dynamic modes when necessary.
From ignition, the M5 is automatically placed into four-wheel drive and the dynamic stability control system is switched on. However, it is also possible to select various driving modes without having dynamic stability control so drivers can enjoy the track friendly pure rear wheel drive fun the M5 will deliver.
The BMW M5 is 4.4 litre engine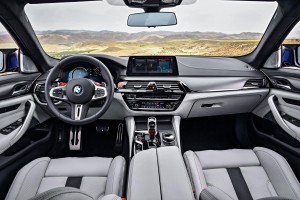 The BMW M5's 4.4 litre engine will help it sprint from 0 to 62 mph in an impressive 3.4 seconds which also makes it the quickest M5 yet produced.
Indeed, the engine produces 600 HP with torque of 750 Nm which enables a top speed of 155 mph.
The economy for this level of impressive power is 27 mpg and emissions of 241g/km.
It helps that BMW have modified the exhaust manifolds to help deliver a great sound and ensure transfer of exhaust gas energy between the two turbochargers.
Get this car on personal contract hire
It should also be noted that while there is lots of equipment, it is geared towards delivering driving dynamics so the driver is the focus of everything in the cockpit.
All of the buttons and switches have been ergonomically designed and everything is located directly in the driver's field of vision. The large digital display has been reconfigured specifically for the M5 and delivers information about driving modes and the all-wheel drive system.
There's also a speed warning alarm that can be adjusted and lights to alert the driver for the optimal time to change the gears when in manual shift mode. All of the data can also be reflected in the car's head-up display too.
For those who want a great looking car with excellent levels of performance, then the all-new BMW M5 will deliver all this and more.