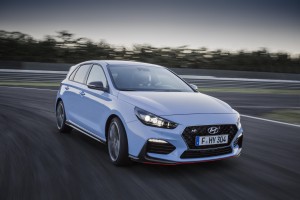 Is the new Hyundai i30 N a hot hatch that will take on the likes of the VW Golf GTI and the Honda Civic Type R? The answer is, probably.
That's because this is an all-round impressive sports car that is priced to take on its better-known rivals.
It's the first attempt by the carmaker for a high-performance model and the first to get the N-badge moniker.
As a new era for Hyundai, the new vehicle is an impressive offering.
Hyundai i30 N has seen its performance sharpened
The Hyundai i30 N has seen its performance sharpened on the Nürburgring with the carmaker promising a performance car that will deliver driving pleasure.
For those who are wondering what the 'N' stands for, it apparently symbolises a chicane.
The power for the excellent levels of performance comes from the firm's 2.0 litre T-GDI turbocharged engine that will produce 275 PS and torque of 353Nm; there will be good responses across the entire rev range.
For those who really want to put this car through its paces, it will feature launch control, electronic limited slip differential, rev matching, lap timing and electronic controlled suspension. There will also be high-performance tyres fitted.
High degree of customisation available for the Hyundai i30 N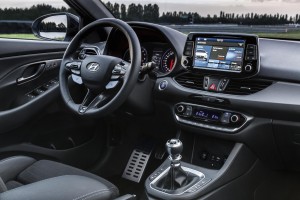 It helps too that there is a high degree of customisation available for the Hyundai i30 N with five different driving modes that range from race track performance to one that helps the driver enjoy their daily commute.
For those who may be wondering what rev matching is, it's a function that supports smooth gear shifting particularly at high speed when shifting through the gears quickly.
The cabin has been well-designed as well with a new instrument cluster and an 8-inch colour touchscreen that reveals modes such as the car's G-Force meter when live tracking its performance.
However, Hyundai says its i30 N 'loves corners' which means the high-performance tyres will deliver maximum grip and with a low body and the use of electronic controlled suspension means there's little in the way of body roll and better cornering at high speed.
Get this car on personal contract hire
Essentially, the i30 N is being pitched as an everyday sports car that delivers lots of comfort on weekdays and the ability for race track performance at the weekend.
With a long list of customer of options, means the new i30 N may well be a sound choice for those looking for hot hatch performance at a reasonable price.
The new Hyundai i30 N will be launched in the UK later this year and while it is a vehicle with unique character only time will tell to see whether it is a real VW Golf GTI beater.
The all-new Hyundai i30 N reveal: