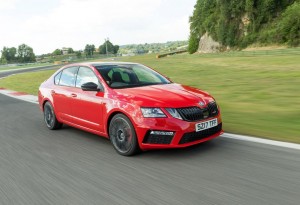 The most powerful Skoda Octavia vRS 245 ever is here!
Available in estate or hatchback form, the car will deliver a 0 to 62 mph time of 6.6 seconds – which makes it the fastest vRS model ever made.
Now the flagship of the Octavia range is available to buy and there's a lot of car for the money.
Among the standard equipment is an electro-mechanical front locking differential which helps to deliver the sporty drive – whatever the weather conditions.
There are also 19 inch alloys and gloss black design features that are in addition to the standard vRS model.
Skoda Octavia vRS 245 has 15PS more power
The new Skoda Octavia vRS 245 has 15PS more power than the previous flagship model – which explains car's name – and lots of equipment to help make it Skoda's sportiest drive yet.
Under the bonnet is a modified version of the current 2.0 litre TSI four-cylinder vRS unit which is mated to either a six-speed manual box or a new seven speed automatic transmission – which has paddles fitted as standard.
The limited slip differential was developed originally by Skoda for motorsport and, if necessary, 100% of the engine's power can be directed to one of the front wheels.
So, when cornering, the differential will increase power to the outer front wheel when required.
Skoda Octavia vRS 245 builds on the impressive spec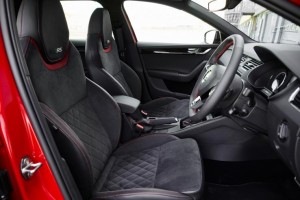 The new Skoda Octavia vRS 245 builds on the impressive spec of the standard model and comes with electrically adjustable and heated sports seats and decorative trim panels.
The multifunction trip computer also features a rev counter, speedometer and a lap timer. Drivers will also find the new car has satnav with an 8-inch display and adaptive front lights.
The top speed for the new model is 155 mph and drivers can adjust the steering and throttle response to suit their own needs and the new exhaust delivers a fruity note.
Get this car on personal contract hire
The excellent infotainment system also works well with connected devices, for instance Apple CarPlay, and there's plenty of space on board for tall adults.
Essentially, the Octavia vRS 245 delivers a refined and impressive ride with steering that is light and responsive.
The overall impression is of a car designed to impress and with its exterior styling, it's bound to be a popular flagship model.
Prices for the Skoda Octavia vRS 245 starts at £27,595 and rise to £30,185.