This is the new Nissan Qashqai which comes with a raft of new performance and technology improvements including ProPilot which will help the car drive itself.
The autonomous technology will see the car taking over the steering, braking and acceleration within a single lane on roads and provide drivers with confidence and better control and freedom.
The Qashqai is Europe's bestselling crossover and the new Tekna+ is the flagship of the range delivering impressive levels of quality.
New Nissan Qashqai goes on sale from July
The new Nissan Qashqai goes on sale from July across Europe with improved driving performance and a better interior than the model it replaces.
However, Nissan says its new ProPilot system will be a boon for high-speed cruising over long distances and when navigating heavy traffic congestion.
Inside the cabin, there is a new layout and the carmaker has used higher quality materials and added advanced technology to help boost its levels of desirability.
While the Qashqai is up against some stiff competition the Tekna+ trim is a standout offering for the segment; along with high quality leather seats there's also a new multifunction steering wheel.
There's also the firm's infotainment system along with satnav and DOB radio along with a new user interface.
Options include a seven speaker Bose sound system while the exterior has been refreshed with some styling tweaks though the front end has been completely revised.
Reasons the Nissan Qashqai has proved to be so popular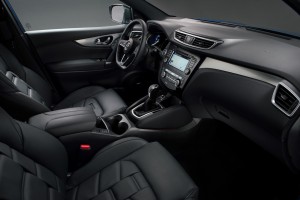 However, one of the big reasons the Nissan Qashqai has proved to be so popular is for the driving experience; it's a great car to drive despite its size.
The new model offers better handling and with improved suspension and steering means the on-the-road experience is even more refined.
It's also a much quieter cabin too with sound absorbing materials and thicker glass and Nissan has also added a range of new alloy wheels which also boost fuel efficiency.
Get this car on personal contract hire
Standard equipment also sees the addition of rear cross traffic alert, intelligent emergency braking along with pedestrian recognition and there's the usual driver attention alert, traffic sign recognition as well as intelligent parking assist.
All in all, the new Nissan Qashqai is an impressive offering and takes the crossover segment into new areas with a sound creation that will impress on just about every level.
See the new Nissan Qashqai: