It's already the most successful business saloon in the world and from March it will be available as a plug-in hybrid, called the BMW 530e iPerformance.
BMW says the new saloon will offer the same dynamic driving experience that the standard model delivers but with all-electric mobility and zero emissions when required.
There's an intelligently controlled interaction between the electric drive and combustion engine which generate a total of 252 bhp to help deliver rapid acceleration.
The BMW 530e iPerformance delivers lower emissions
This also means the BMW 530e iPerformance delivers lower emissions and better fuel consumption with drivers able to achieve 141 mpg and CO2 emissions of 46g/km.
Those are impressive figures and drivers should be able to attain them in real-world conditions with the electric motor delivering 95 bhp and plenty of torque.
Running alongside the electric motor is a 2.0 litre petrol engine delivering 184 bhp so when both are working together will help propel the car from 0 to 62 mph in 6.2 seconds and on to a top speed of 146 mph.
BMW says that in the real world, it's driving range is nearly 400 miles and the all-electric range is 29 miles with the electric motor able to deliver a top speed of 87 mph.
The BMW 530e iPerformance comes with three driving hybrid driving modes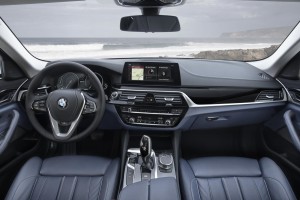 In addition to the usual driving modes, the BMW 530e iPerformance also comes with three driving hybrid driving modes to help deliver a better experience and the driver can tailor the e-drive system to suit their need.
Indeed, when the car is started, it is automatically set for all-electric driving with Auto eDrive and once in progress, the driver can select other hybrid modes to deliver more power.
As with all 5 Series, the iPerformance comes with lots of equipment including satnav, a 10.25 inch infotainment display screen, telephone and entertainment functions as well as gesture and voice control.
Get this car on personal contract hire
Among the new features for the BMW 530e iPerformance are a crossing traffic warning system and active side collision protection. There's also active cruise control to help the driver maintain a safe distance with the vehicle in front.
There's also a flexible platform which BMW calls Open Mobility which enable smartphone connectivity as well as connecting with Amazon Echo and a smart watch.
The system also delivers regular updates to the satnav including an estimated arrival time as well as the weather conditions for the destination. It helps too that there's a surround view camera to help with manoeuvring and boosting safety as well.
The BMW 530e iPerformance will cost from £43,985 when it goes on sale.