It had to come and the new Mini John Cooper Works Clubman will impress Mini lovers everywhere with a vehicle that offers unique high performance for its segment.
Indeed, this is the most powerful Mini Clubman available with an engine producing 231 HP to help propel the car from 0 to 62 mph in 6.3 seconds and on to a top speed of 148 mph.
To help boost traction, the new car is also fitted with the firm's ALL4 all-wheel drive system so the handling should be enjoyable with all that power.
Mini John Cooper Works Clubman has an upgraded suspension
The new Mini John Cooper Works Clubman also has an upgraded suspension as well as various exterior and interior styling tweaks and features and the special edition also has an improved braking and cooling system.
There's even a new high quality standard spec with a range of new options including the firm's satnav system.
The end result is a John Cooper Works model that delivers the same practicality and style of the Clubman but with the sporting dynamics and high-performance that owners have come to expect from the Works creations.
Mini John Cooper Works Clubman delivers the best possible traction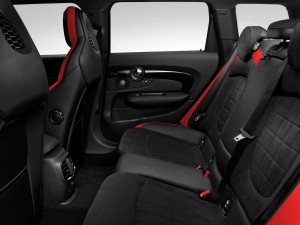 It helps too that the all-wheel drive system for the Mini John Cooper Works Clubman delivers the best possible traction to suit a variety of driving conditions which will bring peace of mind motoring; it's also great to drive into corners at speed.
This is the latest model to join the John Cooper Works family and it should return around 42 mpg with CO2 emissions of 154g/km.
Fans of the Clubman will realise that the front end is not just more aggressive and been designed to help reduce lift but it also helps deliver the air needed to keep the powerful engine cool.
Owners will also get to enjoy unique alloy wheels and special badging along with the option of a unique paint – 'Rebel Green'.
There's no doubt that the Mini John Cooper Works Clubman will prove to be a popular choice for those who like a small car with great performance and prices for the version with six speed manual gearbox start at £29,345 OTR while the eight speed sport Steptronic gearbox costs from £30,945.