As the UK's best-selling car, the new generation of the Ford Fiesta comes with a proud boast that it's the most technologically advanced small car in the world.
The new offering from the Blue Oval also sees four distinct body styles in the line-up including a brand-new Active crossover, a top end Vignale model, a new Titanium and a sporty ST-Line.
The new model also comes with a pedestrian detection and ability to prevent collisions at night as well as a braking system to help prevent a low speed collision.
New Ford Fiesta has a long list of personalisation options
The new Ford Fiesta also has a long list of personalisation options including a panoramic glass sunroof and there is more refinement on board to help reduce road noise which helps to make the cabin even quieter.
There's also a new diesel-powered unit available, a first for the Fiesta, in the 1.5 litre TDCI which produces 120 PS and should produce emissions of 82g/km.
One of the reasons why the Ford Fiesta has been a popular choice with British buyers is the fun to drive characteristics and the carmaker says the new suspension and electronic torque vectoring control helps to boost handling and grip when cornering at speed.
Ford Fiesta has undergone a comprehensive revamp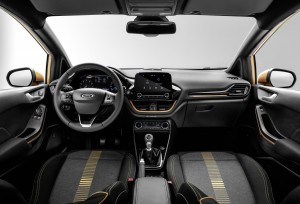 Indeed, the Ford Fiesta has undergone a comprehensive revamp to deliver a sophisticated and well equipped small car that will appeal to a wide range of potential buyers.
In addition to the new crossover model, there will be a lot of attention for the ST-Line with its exterior styling tweaks including alloy wheels, new grille and side skirt designs.
Inside there are new sports seats, a flat bottomed steering wheel and alloy pedals and to help boost an impressive driving experience there is a sport suspension that's been enhanced.
Get this car on personal contract hire
And it's no surprise that the Ford Fiesta Titanium has made an appearance since high spec Fords account for nearly 60% of all sales and the Titanium models made up 48% of all Fiestas sold this year.
There's also an impressive 8-inch colour touchscreen that drivers can operate with a pinch and swipe gesture and there's also Bluetooth connectivity, DAB radio and a top end sound system.
Prices and a launch date for the new Ford Fiesta will be revealed in the coming weeks.