For anyone wanting supercar performance without the supercar price tag then the Lotus Exige Sport 380 deserves closer attention.
It's a very light car and will sprint from 0 to 62 mph in just 3.5 seconds and on to a top speed of 178 mph. Economy for the small car is 37 mpg though drivers who want to enjoy the impressive level of performance will see fuel economy of around 19 mpg in real world use.
The carmaker says that the Exige Sport 380 is the most aggressive Exige creation they've yet come up with.
Lotus Exige Sport 380 builds on the success of the excellent Sport 350
Essentially, the Lotus Exige Sport 380 builds on the success of the excellent Sport 350 which was launched in 2015 but now has enhanced aerodynamics, more power and it has lost weight too.
The car also delivers a truer driver's experience without the overload of electronics which dampens the driving experience in many supercars today and Lotus says that its new creation is a pure unadulterated driving experience.
Part of that is down to the unassisted steering and with its low centre of gravity means that the characteristics of the car are easy and precise to handle.
Get this car on personal contract hire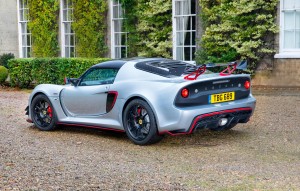 There's no doubt that the Lotus Exige Sport 380 is a true driver's car and for Lotus enthusiasts the level of engineering and thrills to be had behind the wheel help to make this a standout creation.
There are some personalisation options available with standard kit including air conditioning and an integrated entertainment system with Bluetooth and iPod connectivity.
For owners who want to enjoy the car's potential on a track day then there's an optional track pack which includes adjustable antiroll bars and two-way adjustable dampers.
However, the real attraction isn't just in the performance and eye-catching style but the fact that this level of performance is not costing more than £100,000 and instead the Exige Sport 380 will retail at around £67,900.