The Mazda CX-5 is the firm's bestselling model in Europe and the new generation of what is an impressive compact SUV will undoubtedly help push the vehicle on to greater heights.
This is a complete redesign of the vehicle that first appeared in 2012 to critical acclaim with nearly every aspect of the car being reviewed and revamped.
Mazda says the new vehicle has been engineered to focus on 'human sensibilities' so they can enjoy a better performing vehicle that meets their growing expectations. There has also been a lot of thought for passenger comfort and safety in what is a finely crafted and surprisingly quiet cabin.
Two petrol engines for the all-new Mazda CX-5
There are two petrol engines for the all-new Mazda CX-5 as well as a 2.2 litre clean diesel unit with all three engines delivering powerful performances and impressive economy figures. They also have very low emission figures.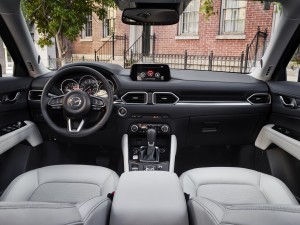 Among the new equipment highlights is the growing popularity of a windscreen head-up display for the car's information to be seen in the driver's eye-line and it is a first in this class and a powered remote control tailgate.
Potential owners who like the look of the all-new Mazda CX-5 will see the first models appearing after its Japanese debut in February; there's high expectations for the new car which accounts for one in four of the firm's worldwide sales in 120 countries. The outgoing model has won around 90 awards including Japan's Car of the Year in 2013 and lots of crossover and best SUV prizes.
Indeed, the Mazda CX-5 is an excellent choice for those who want a great performing vehicle with excellent handling and lots of equipment rather than opting for a pricey badge of its competitors.
The equipment list and the prices will be unveiled nearer to the vehicle's UK launch but there is no doubt that the current model is still an excellent example and one of the class leaders in the popular crossover segment for those who still want a quality vehicle that will meet most owner's demands.