One of the best cars in the SUV segment is the Peugeot 3008 which has been given a revamp with the all-new model available to order now.
There is a lot to like about the 3008 and owners will find the latest version has the firm's i-Cockpit installed which brings these models digital instrumentation rather than analogue ones.
There's also a compact steering wheel and an 8-inch touchscreen for the infotainment system with a 12.3-inch head-up digital instrument panel that is configurable.
Peugeot 3008 Active has lots of equipment
Prices start at £21,795 for the Peugeot 3008 Active which has lots of equipment on board.
With the segment growing in popularity around the world, car makers have to keep on their toes with creations that will impress and there's plenty to indicate that the 3008 will continue to be a success when they arrive in showrooms from the end of January.
Peugeot has responded to customer feedback who say they want lots of equipment as well as new experiences, so along with inspired styling and high-tech equipment the Peugeot 3008 should prove to be a popular choice.
However, buyers in the UK will not get the 'Level 1′ specification and instead our choice begins with 'Level 2′ to every model comes with the i-Cockpit.
Equipment for the Peugeot 3008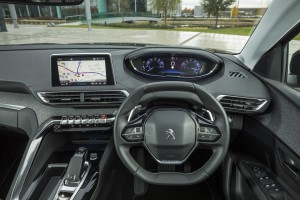 Standard equipment for the Peugeot 3008 includes dynamic stability control and an electronic anti-skid system. There's also a driver alert system and programmable cruise control with speed limiter.
Peugeot have also fitted speed sign recognition and with the 1.2 litre three-cylinder turbocharged PureTech petrol engine, it's already been voted Engine of the Year, offering excellent economy will make this a cheap vehicle to run.
Peugeot is also offering the 1.6 litre THP petrol unit which is more responsive and is coupled to either an automatic transmission or a six-speed manual gearbox. There are two engine outputs to choose from with the 165 HP engine offering the best performance.
Get this car on personal contract hire
For those who would prefer a diesel engine, there are four to choose from which use BlueHDi technology to keep emissions low; they are between 103g/km and 124g/km with power outputs ranging from 100 HP to 180 HP.
Of the four trim levels, Peugeot 3008 in the Allure trim is slated to be the bestselling model which offers potential buyers a lot of equipment and abilities for the money; prices for the 1.2 litre PureTech start at £23,595 and rise to £26,845 for the 1.6 litre BlueHDi model.
The most expensive model is the Peugeot 3008 GT which comes with a 2.0 litre BlueHDi engine and will cost £22,995. With 17 models in the all-new Peugeot 3008 line-up there's plenty to recommend this SUV in the keenly fought crossover segment.