From next March, the Nissan Leaf Black Edition will help boost the popularity of this all-electric car with stylish additions and lots more equipment.
It's a limited version of the bestseller and includes black alloy wheels, rear roof spoiler and door mirror caps.
The new Black Edition will also feature some of the carmaker's latest technology including advanced safety systems, around view monitor and the NissanConnect EV telematics system.
Buyers of the Nissan Leaf Black Edition
There's also an extra incentive with the first 1,000 buyers of the Nissan Leaf Black Edition also enjoying free Wi-Fi hotspot for the car which is capable of handling up to eight devices at the same time.
The Leaf is the world's most popular all-electric car and for good reason with excellent abilities and low running costs make it a market leader. It also a well-made British built car that's reliable and keenly sought-after.
Among the extras being added include illuminated entry guard, LED headlamps and privacy glass.
Limited run of the Nissan Leaf Black Edition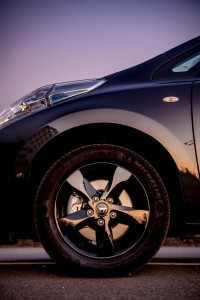 And for those who like the look of the car need to appreciate there will be a limited run of the Nissan Leaf Black Edition when it goes on sale from March 2017 with the last model being produced in August so that is a short window for those who like the look of the all-electric vehicle.
When it was first launched in 2010, the Nissan Leaf created something of a stir since it was the world's first mass-market all-electric car and the latest versions deliver up to 155 miles of motoring range from a battery producing 30 kWh.
Get this car on personal contract hire
Nissan says buyers of its Leaf have racked up more than 2.5 billion electric miles and the carmaker has sold nearly 240,000 vehicles around the world – 64,000 of them have been to European buyers and it is now the world's bestselling all electric car.
With interest in all-electric cars continuing to grow it look likes the new Nissan Leaf Black Edition will continue to dominate the segment with a well-produced and practical car that owners rate highly; it's cheap to charge up and for those wanting a cheap commuting vehicle then it makes sound sense to own.