It's one of the best handling and performing small cars currently available and the Ford Fiesta ST now has the option of five doors for the first time.
Not only does this boost the cars practicality but also – crucially – retains its excellent driving dynamics and performance.
The award-winning pocket rocket is still available in the three door guise and it's likely that this availability in Europe of five doors for the first time will prove popular.
The Ford Fiesta ST
Access to rear seats for the Ford Fiesta ST becomes much easier, a great boon for owners with small children for instance, and for the purist the additional doors do not detract from the styling.
There is no getting away from the fact the car's excellent handling will still be its biggest attraction with an excellent 1.6 litre petrol EcoBoost engine delivering 182 bhp the Ford Fiesta ST to sprint from 0 to 62 mph in less than seven seconds while delivering fuel economy of 47 mpg and emissions of 141g/km.
Fiesta ST will still have the excellent performance tuned chassis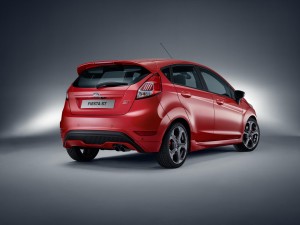 Indeed, the Fiesta ST will still have the excellent performance tuned chassis which has an optimised suspension to help deliver excellent road holding.
The five door model will also have fought torque electric control system which applies brakes when cornering to reduce understeer and boost road holding without affecting speed.
There's still plenty of standard equipment too including alloy wheels and a rear diffuser as well as dynamic headlights design and a unique grille.
Get this car on personal contract hire
As a popular hot hatchback, the Ford Fiesta ST has sold 38,000 models in Europe alone and there's been a growing demand for a five door version from potential customers.
The new five door Fiesta ST goes on sale from October from £19,495 and will account, says Ford, for one in four Fiesta ST European sales.