The 2017 model range for the Range Rover Sport will be packed with new technology along with two new engines, says the firm.
Under the bonnet will be a new 2.0 litre diesel Ingenium engine along with a 3.0 litre petrol unit to boost the engine line-up. The diesel unit is already impressing in the Evoke and Discovery Sport models.
There will also be an upgraded infotainment system and connected technologies along with a wider range of colours to choose from and some exterior tweaks for the Dynamic models.
New Range Rover Sport goes on sale later this year
The new Range Rover Sport goes on sale later this year and the price for the entry-level 2.0 litre SD4 HSE will start from £59,007.
For the money, buyers will find a Range Rover Sport that Land Rover says is the most efficient it's ever created with the 2.0 litre Ingenium engine which has been designed by the carmaker and which is built at their Wolverhampton plant and it should return around 46 mpg with emissions of 164g/km.
More importantly, the engine will help the Range Rover Sport sprint from 0 to 62 mph in eight seconds.
3.0 litre V6 supercharged petrol unit for the Range Rover Sport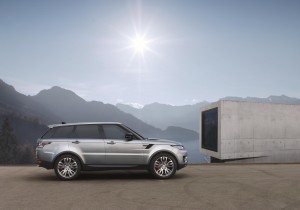 Customers in the UK will also have the option of the firm's excellent 3.0 litre V6 supercharged petrol unit for the Range Rover Sport which produces 340 bhp and has emissions of 243g/km – it's sprint time is just over seven seconds.
Among the new technologies for the Sport are blind spot assist, intelligent speed limiter and an advanced towing assist system. All of these work alongside current features to help boost driver aids to improve safety and convenience.
However, the new Range Rover Sport still has its peerless off-roading capabilities and the 2017 model year offers new features including low traction launch to enable drivers to set off more easily on low grip surfaces.
Get this car on personal contract hire
For those drivers who like to enjoy more challenging terrain, there's a new 4x4i menu available to offer the necessary information to tackle these surfaces.
There's also a new 10-inch touchscreen display which features 'pinch and zoom' and extensive connectivity with the owner's mobile phone which offers apps and more controls – the apps can be downloaded directly to the car's system rather than via the owner's phone.
The current Range Rover Sport is an excellent production and there's no doubt that the new tweaks and improvements will help boost its popularity and we will, undoubtedly, be seeing lots of them on our roads from early 2017.