This is the stylish new Citroen C3 which has just been unveiled and builds on the success created by the C4 Cactus with funky styling and various additions.
There's a lot riding on the new C3 for Citroen which is a big seller for the firm and it's the first launch to be staged since the successful spin-off of the DS brand was carried out.
Car industry watchers say the Citroen C3 will need to be successful for the firm and there's no doubt there's a lot to like about it.
The five door supermini has bold styling and will deliver more personality and refinement for the segment.
The Citroen C3 has shifted 3.6 million units
Since launch in 2002, the Citroen C3 has shifted 3.6 million units which means the firm knows how to deliver a small car buyers want.
There's a slew of new technology including an on-board HD camera that will enable drivers to share road trip videos and photos with family and friends via the ConnectedCAM system (though it obviously works as a dashcam too).
Exterior of the Citroen C3 has the option of two tone paint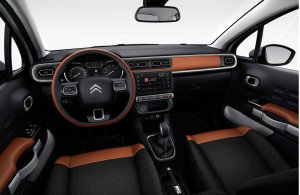 The exterior of the Citroen C3 has the option of two tone paint along with three different roof colours and other colour touches around the bodywork including door mirrors and fog lights and, like the Cactus, the new Citroen C3 will have coloured Airbump panels.
Some models will also have a panoramic glass sunroof, the seats are more comfortable and there's a new 7-inch touchscreen as well as keyless entry and keyless start. There's also a reversing camera, blindspot monitoring and voice controlled 3-D navigation.
The new range will be powered by high-performance engines and the firm's latest automatic gearbox will be an option.
Get this car on personal contract hire
While the Citroen C3 will be an impressive offering, the carmaker is also following its rivals down the route of offering a huge range of personalisation options which will help boost sales and create almost unique cars that buyers will come to enjoy and love.
There's no indication on prices yet, but there should be in the same range as the current model but have more equipment and options with the Citroen C3 due to go on sale in January 2017.