The top-selling Hyundai Tucson will see a boost in sales with a new, more efficient 1.7 litre diesel engine being added to the range and it comes with a seven speed double clutch transmission.
The move sees the Tucson, which is one of the best compact SUVs around, now having an impressive range of four diesels and one petrol engine in its range. The new turbodiesel engine produces 141 bhp and is only available in two-wheel drive.
The addition of the seven speed double clutch transmission – or the '7DCT' as Hyundai calls it – is an interesting one for the segment and offers drivers a choice between using sequential manual gear changes or opting for a fully automated operation.
Hyundai Tucson's new automatic gearbox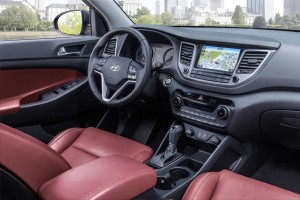 The Hyundai Tucson's new automatic gearbox should boost the vehicle's fuel efficiency and also lower CO2 emissions when compared to the manual box. The firm is also adding stop and go as standard to the engine to help boost economy.
The fuel economy for the new diesel unit is 60 mpg with emissions of 129g/km and even for urban driving, the official figure of 52 mpg is still impressive. Previously, the most frugal of the engines was the 2.0 diesel unit which returned 47mpg.
Get this car on personal contract hire
The new 1.7 litre engine will reach a top speed of 115 mph and go from 0 to 62 mph in 11.5 seconds – a big fall from the previous time of nearly 14 seconds.
There's also been a big boost to the torque which is now 340Nm.
Prices for the Hyundai Tucson start at £24,570 OTR for the Tucson's SE trim while the Premium SE trim will cost £29,695 and the new powertrain is available now.