The Ford Kuga Vignale is a luxurious version of the standard model and it's just been unveiled by the Blue Oval for sale later this year.
Currently, the Vignale brand is limited to the Mondeo where buyers can enjoy meticulous craftsmanship and exclusive specification. However, it looks like Ford is also set to add the S-Max Vignale and Edge Vignale to its line-up as well.
The Kuga Vignale delivers extra styling options, fuel-efficient engines producing more power and top level tech including active noise control which will cancel unwanted road noise in the cabin.
New Ford Kuga Vignale models will be distinctive
The new Ford Kuga Vignale models will be distinctive with a pearlescent metallic paint and leather interior trim with the firm's excellent TDCi diesel engines and Ford's EcoBoost petrol unit available.
Of the engines, the 2.0 litre TDCi producing 180PS should return 57 mpg with emissions of 129g/km, while Ford's 2.0litre EcoBoost unit is coupled to a six speed automatic gearbox to deliver economy of 36 mpg and missions of 180g/km.
The new Kuga Vignale will have 19 inch polished aluminium wheels (though dark wheels are an option), quilted leather seats, and chrome detailing.
Equipment fitted as standard on the Ford Kuga Vignale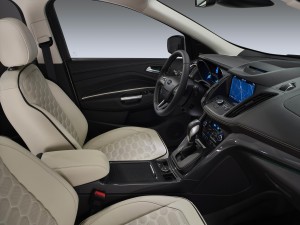 Equipment fitted as standard on the Ford Kuga Vignale includes the Sync3 infotainment system with an 8-inch touchscreen, with users able to use 'pinch and swipe' for the first time and also has a voice control so the driver can make requests for petrol stations and suchlike with the system delivering the information.
There's also a premium audio system on board as well as ambient lighting in the rear as well as front end cameras to look around corners when the driver cannot which will help reduce the risk of collision with another vehicle.
One reason for Ford stepping into the Vignale world with the Kuga is that 80% of the 33,000 models sold in the UK were the high spec Titanium versions which gives the firm confidence to deliver more luxurious variants.
Get this car on personal contract hire
Indeed, industry sales specialists say that around 27% of cars sold in Europe by 2020 will be SUVs; that's a big rise from the 20% sold in 2014.
As stated previously, the Ford Kuga Vignale is available to order now and many FordStores also have dedicated Vignale lounges for those who'd like to see one at first hand. Prices have yet to be confirmed.