The city car stakes have just got sportier with the unveiling of the Renault Twingo GT which has a tweaked suspension and its power has been boosted by 21 bhp.
The model has been rumoured for quite a while and now the new Twingo GT is set to become a hot city car with various sporty exterior extras.
There's still a 0.9 litre TCe turbocharged petrol unit under the bonnet but this engine produces 110 bhp and extra torque of 135Nm so it's not quite a hot hatch but it is still offering blistering pace for the size of the car.
Renault Twingo GT offers decent pace
The Renault Twingo GT offers decent pace and will reach from 0 to 62 mph in less than 10 seconds and has a five-speed manual box fitted as standard.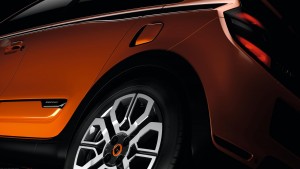 However, the suspension tweaks have boosted handling and, Renault claims, there is superior roadholding as a result. Drivers will also have the option of switching between various driving modes including 'Eco' and 'Normal' to help boost economy or performance.
Drivers will find the Renault Twingo GT has a lowered ride height and 17-inch alloy wheels, twin exhaust pipes and to help boost its looks there are also a chunky air intakes and Renault Sport badging.
Rear-engined Twingo GT delivers driver enjoyment
The rear-engined Twingo GT delivers driver enjoyment and Renault says its car has comfortable and precise handling and offers lots of fun.
There's also variable ratio power steering and specific ESC settings too and the exterior tweaks include wing flares and front and lateral skirts. There's also a rear diffuser.
Get this car on personal contract hire
The interior for the Twingo GT also has a sporty feel with aluminium pedals and gear lever with lots of orange detailing in the rest of the cabin.
The Renault Twingo GT is heading to our shores this autumn with prices expected to be around £15,000.