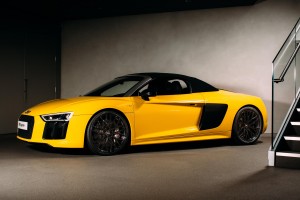 The order books will soon be open for the impressive Audi R8 Spyder which has received its UK debut in London with deliveries expected later this year.
With a price expected to be around £130,000, the R8 Spyder is the firm's mid-engine flagship model and offers incredible levels of performance, though Audi says just one in four of its R8 sales in the UK will be for the soft-top.
It made its first public debut in New York last month and this is a sibling to the Audi R8 Coupe and which will rival the Porsche 911 Turbo Cabriolet.
New Audi R8 Spyder model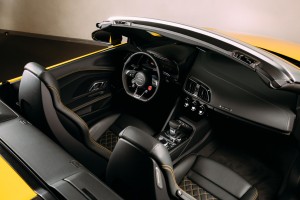 This new Audi R8 Spyder model still has the carbon fibre and aluminium spaceframe body structure with added strength for the windscreen surround and A-pillars to help bring structural strength.
Not only is the Audi R8 Spyder more than 100 kg lighter than its predecessor, it's also 50% more rigid, says Audi.
The roof will open and close at speeds of up to 31mph in 20 seconds and then, when folded flat, will sit in a dedicated stowing area behind the two seats.
Get this car on personal contract hire
Under the bonnet, the R8 Spyder has a 5.2 litre V10 which produces 532bhp to help deliver a startling 0 to 62 mph time of 3.6 seconds and a top speed of 198mhp. The engine is coupled to a seven-speed dual-clutch automatic gearbox with performance underpinned with a four-wheel-drive system that has a locking rear differential.
Fuel economy for such supercar levels of performance will be around 24 mpg (that's an 'official' figure so expect it to be less) and emissions will be 277g/km.
Fans of the Audi R8 Spyder should also be aware that a second variant is being planned which will utilise the same engine but produce 601bhp and which should be in the UK by the year-end.