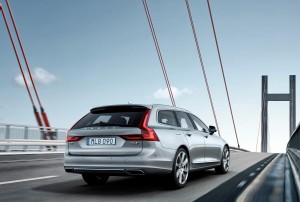 The new Volvo V90 which is about to step into some very large shoes as the replacement for the iconic Volvo V70 will cost from £34,555, the carmaker has announced.
The new model shares various design cues as well as platforms with the new S90 and the XC90.
First revealed in Stockholm in February before making its first public appearance at the recent Geneva motor show, the new car will cost £2,000 more than the S90 saloon.
The entry-level model will be the D4 diesel with Momentum trim ith standard kit including LED headlights, drive pilot assist and heated leather seats. Other models come with Nappa leather seats and larger alloy wheels.
The range topping Volvo V90 D5 all-wheel drive
Prices for the range topping Volvo V90 D5 all-wheel drive diesel start from £41,555.
All three of the new models sit on the firm's SPA platform and they all have a family resemblance including at the rear. In the case of the V90 there is a prominent tailgate to help distinguish it from its predecessor. Indeed, the V70 slope in rear screen and the spoiler help bring a presence.
Initially there will be a range of diesel engines including the turbocharged four-cylinder D4 which produces 187 bhp and the D5 producing 232 bhp. Both are good performers with the new vehicle capable of sprinting from 0 to 62 mph in 8.5 seconds for the D4 and in the D5 it is 7.2 seconds.
The Volvo V90 will be using an eight speed automatic gearbox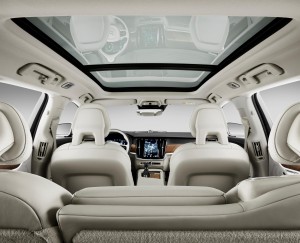 The diesel units in the Volvo V90 will be using an eight speed automatic gearbox though the entry-level D4 will have a manual six-speed box. The idea, Volvo says is to keep emissions low and economy high. This makes sense as the D4 will be returning 63 mpg with emissions of 119g/km.
The D5 will be used in the all-wheel drive V90 so economy drops to 57 mpg and emissions rise to 129g/km.
Get this car on personal contract hire
Other standard kit includes satnav, 9inch touchscreen display, leather seats and LED lights. Anyone thinking of buying or leasing the Volvo V90 should be aware that the carmaker has confirmed it is also among the first to offer its car without a physical key.
Owners will need a smartphone app that will unlock the doors as well as the boot and the app can even can start the engine remotely. However, customers who insist can opt for a standard key.
Eventually, buyers of the Volvo V90 in the UK will be able to spec the excellent T5 and T6 petrol engines which produce 250 bhp and 316 bhp respectively.