The impressive VW up! city car has been improved with a new engine, more options for individualisation as well as smartphone integration.
Volkswagen will unveil the new model at the Geneva motor show and it will feature more agile driving characteristics and a new turbo petrol engine producing 90 PS.
VW says the new engine is such a strong performer it matches the performance from its first Golf GTI while being more frugal. It should return 64 mpg and has a top speed of 115 mph.
The up! will also come with a new 300W branded sound system.
Boost the look for the VW up!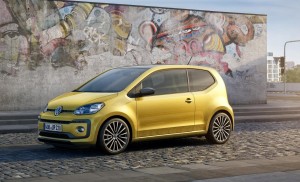 There has been a comprehensive upgrade by Volkswagen and there's a new exterior look with a rear diffuser, bumpers and mirrors as well as new indicator lights and headlights to help boost the look for the VW up!.
Among its personalisation options, drivers can opt for three roof colours and 13 body colours. There are also 10 dashboard designs and a new multifunction steering wheel.
The new VW up! also has better networking with smart phone integration, improved ambient lighting and a new Climatronic air con system.
Get this car on personal contract hire
Other options include those found on larger VW cars including rain sensors, foglamps that become cornering lights and an air quality sensor will help keep the cabin three from pollutants and allergens.
The VW up! is one of Europe's most popular city cars, and has been for five years, and in Holland and Germany it's the number one bestseller in its segment.
Volkswagen says its new up! offers better value for money than the model it replaces with more specifications and will be available in our showrooms from late summer with prices starting at around £8,900 even the new model will be carrying more equipment.