This is the stylish new Mini Convertible which offers more dynamic handling and refinements than the model it will replace in March.
There will be four cars in the line-up including the Mini Cooper Convertible there will be a Cooper D Convertible, the Cooper S Convertible and a John Cooper Works Convertible.
It will cost from £18,475 OTR with more equipment including Bluetooth connectivity, rear reversing camera and parking sensors among them. Other equipment includes a 6.5 inch touchscreen.
There's also a new electric roof that's more refined and quieter than before and should retract in 18 seconds.
Mini Convertible has a larger boot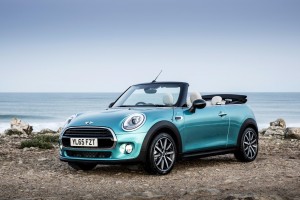 The Mini Convertible also has a larger boot – it has grown by 25% and there's more space for those sat in the rear seats.
The car has been a big sales success: between 2011 and 2015, there were 29,415 buyers of the Mini Convertible which made it the bestselling convertible in the country.
The new car is part of a reinvention of the Mini brand with several new cars being launched; the idea is to make them more stylish and dynamic with more practicality.
The Mini Convertible is the only premium convertible with four seats in the UK's small car segment and this country is the largest market in the world for the car.
Mini have also introduced a new rollover protection system which comes into play automatically and there's also a new optional wind deflector to help control wind turbulence when the roof is down.
Get this car on personal contract hire
Mini helped pioneer the idea of offering an incredible list of personalisation options to help deliver a car that is truly individual.
Among the options is the firm's Union Jack fabric roof design which is an eye-catching and impressive addition. When the roof is in place it has strong insulation for sound and warmth.
Drivers have the choice of a 1.5 litre petrol engine with three cylinders or 2.0 litre four-cylinder engine, both are turbocharged to deliver impressive levels of performance.
There's also a 1.5 litre turbocharged diesel engine with three cylinders available. Fuel economy ranges from 46mpg for the 2.0litre petrol unit to 71 mpg for the Mini Cooper D convertible.
The new Mini convertible is packed with equipment and technology and it's bound to be another sales success for the car maker.