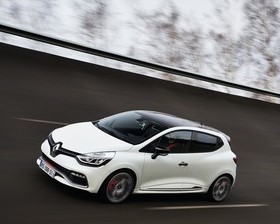 As hot hatches go, there's a lot of expectation for the new Clio RenaultSport 220 Trophy which offers a lots of power for the money.
The order books have now opened and the first deliveries of the RenaultSport 220 Trophy are expected in August.
The new car is a reworked version of the excellent Clio RenaultSport 200 which sees its engine being uprated by 20HP to 220HP.
In addition, Renault says that its range of Clio RenaultSport 200 models have also been boosted with new engines which provide better economy and CO2 emissions.
That also been substantial changes to the car's steering and suspension and to the shift speed of the EDC gearbox.
Clio RenaultSport 220 is the new flag bearer
The Clio RenaultSport 220 Trophy attracted a lot of attention when it was unveiled at this year's Geneva motor show and it's now the flag bearer for the Clio range.
It's due to make its debut in the UK at the Goodwood Festival and is aimed squarely at track day enthusiasts and those drivers who are looking for cutting-edge performance for road use.
Engineers have given the Clio RenaultSport 220 Trophy a new turbocharger and better engine mapping than its 200 siblings so the 1.6 litre direct injection engine has 10% more power.
There's also a new exhaust and air intake system with peak power been delivered at 6,050rpm.
This means that the Clio RenaultSport 220 Trophy now has a top speed of 146 mph and it can sprint from 0 to 62 mph in 6.6 seconds.
For this, owners should be able to enjoy economy of 48mpg and emissions of 135g/km.
Renault have also tweaked the EDC gearbox so it's 50% faster in shifting and the steering wheel-mounted paddles have also been made more responsive.
Get this car on personal contract hire
The result should mean that the Clio RenaultSport 220 Trophy is great fun on track days with a variety of driving modes available including Sport and Race settings.
However, for anybody wanting to use it on a race track will also enjoy the launch control function but when the driving mode is set to Race the gears can only be changed manually.
Also, grip has been improved with a stiffer chassis and a lower suspension.
The new Clio RenaultSport also comes with a wide range of standard equipment including satnav, Bluetooth connectivity, a 7-inch touchscreen and DAB radio.
Available now, the Clio RenaultSport 220 Trophy costs £21,780.