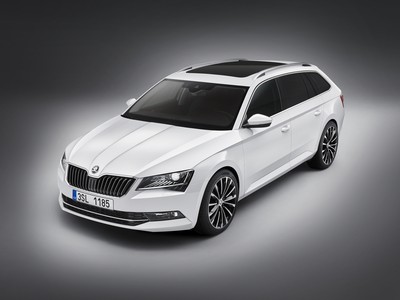 Just a few months after the successful debut of the new Skoda Superb hatchback comes the estate version and it's very impressive.
Skoda says that its new estate offers a 'best in class' interior and has a more dynamic style than the model it replaces.
The Skoda Superb estate also has more safety features, connectivity, more comfort and better driving dynamics.
It's available to order from June and deliveries of it will begin in September. It actually makes it official debut at the International Motor Show in Frankfurt, Germany, in September.
This is likely to be a popular choice since around a third of all Skoda Superbs sold since 2009 have been the estate variant.
Skoda Superb Estate has more space
Skoda says that its Superb Estate has the largest interior space and luggage area in its segment at nearly 2,000litres, with the rear seats folded flat.
The new estate also features the firm's dynamic chassis control for better handling, particularly on corners at speed, and there are new engines which comply with the EU6 regulations.
Indeed, the new engines are nearly a third more efficient than those they replace.
Connectivity for the Skoda Superb Estate sees the infotainment system linking automatically to smartphones via its Smartlink function and there's an option for high-speed Internet connectivity too.
Skoda says that this element will turn the Superb Estate into a 'hotspot on wheels'.
Skoda Superb Estate will debut in Frankfurt
More details about the car will be revealed after its launch but it is certain to do well and some of the safety equipment will also be class leading.
The extra space means there's more room for legs and arms and the new car is a comfortable place to be.
It's essentially very similar to the hatchback which is a very impressive product, though the estate has a higher roofline so there's more headroom too.
The Skoda Superb hatch also has a large boot but it also has lots of space for rear passengers and excellent road handling too.
Indeed, the estate also has lots of legroom for rear passengers, it's bordering on business class level, and a much longer wheelbase.
Get this car on personal contract hire
This extra length helps to make it one of the longest estate cars in its class and the exterior redesign has a sharper, sportier look with a steeply raked windscreen.
Expect prices for the entry-level Skoda Superb Estate to cost from £20,000 with a variety of kit levels although there will be options for a full-length panoramic roof.