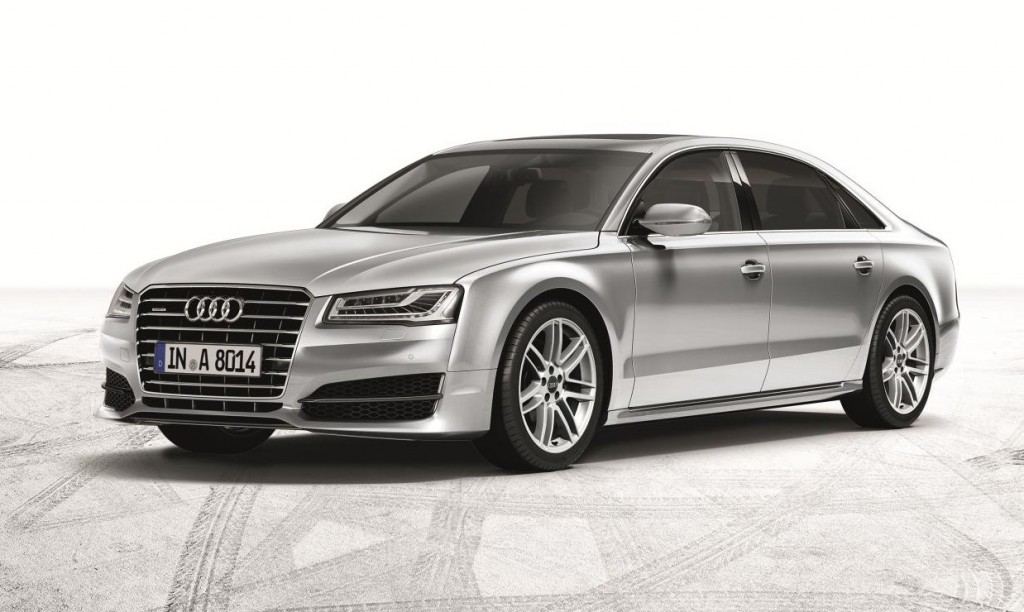 This is the striking new Audi A8 which has been redesigned and comes with an impressive list of kit as standard.
There's a new Sport trim for the Audi A8, improved emission levels and more equipment for the SE Executive.
Among the new engines is a 3.0litre quattro unit which sees the power increased to 262 PS and its emissions fall to 149g/km.
The new Audi A8 comes in standard and long wheelbase, the longer models come with the petrol electric hybrid efficient drivetrain as well as a 12 cylinder 6.3 litre 500 PS petrol unit.
The firm is also offering another excellent petrol engine in the shape of the 4.0litre TFSI which comes with its cylinder on demand system to help boost economy.
Engines for the new Audi A8
Another of the two TDI engines is a 4.2litre V8 which will produce 385 PS and go from 0 to 62 mph in just 4.7 seconds (in the standard wheelbase model).
The engine should return around 40 mpg and has CO2 emissions of 189g/km.
Audi fans may be looking forward to the new A8 Sport version which comes with a new exterior package to help it stand out from the rest of the line-up.
These include 19 inch wheels and pronounced side skirts.
Audi says that its A8 is offering new levels of luxury for the segment.
Impressive equipment list for the Audi A8
Standard kit includes leather upholstery, satnav, an impressive infotainment system and double glazing.
All models come with the firm's advanced parking system which utilises a reversing camera, hands-free boot lid operation and keyless unlocking and starting.
New kit for the 2016 Audi A8 model line-up include powered door closure, privacy glass and comfort seats.
The all-new Audi A8 has a lightweight construction and utilises the firm's Quattro all-wheel drive as well as a standard adaptive air suspension with four modes.
Audi says it's one of the most controllable and agile luxury saloons available today.
The Audi A8 is available to order now and the Sport version will be available in June. Prices start at £59,585 OTR.