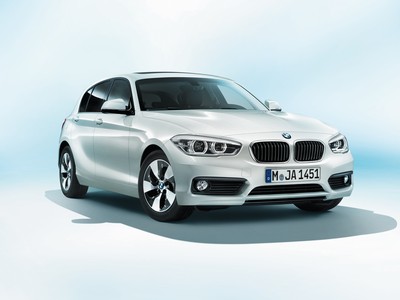 This head-turner is the new BMW 1 Series which builds on the success of the current model which was launched 10 years ago.
BMW have sold around 2 million units since the model was introduced and the new version builds on its winning formula.
The three and five door BMW 1 Series also comes with a new range of engines which have EfficientDynamics technology as standard.
BMW say they're also enhanced the interior and exterior design.
In addition, the new BMW 1 Series also has more standard kit than the current model including the firm's ConnectDrive to help boost personalisation and functionality of the car.
BMW 1 Series still has the same sporty stance
The exterior design has a few tweaks but it still looks essentially the same sporty vehicle with a long bonnet and short overhangs.
There are now larger air intakes and a new lower apron as well as new LED daytime driving lights.
BMW have also added the option, for the first time, of having adaptive headlights which adapt their beams to the type of road and conditions.
However, sit inside the new BMW 1 Series and it is unashamedly a BMW car with a driver-focused cockpit.
It's a very comfortable place to be with new fabrics and materials being used in the cabin.
Satnav is now fitted as standard on the BMW 1 Series
Another new standard kit addition is satnav – indeed all BMW's from September will come with this facility. BMW is the first carmaker to make it standard equipment on all its models.
As mentioned previously, the BMW 1 Series comes with a range of new power plants which are around 12% more efficient than the engines they replace.
The also meet the new Euro6 emissions standard and, for instance, the M135i engine will produce 326 HP while the 116d has CO2 emissions of just 89g/km.
Prices start at £20,775 for the five door BMW 1 Series 118i which has 136 HP and torque of 220Nm.
The car will also go from 0 to 62 mph in 8.5 seconds with a top speed of 130 mph. Its fuel economy is 52mpg and three door version costs £20,245.
Get this car on personal contract hire
The most expensive five door BMW 1 Series is the 125d which will cost £30,330 and have 224 HP of power and a top speed of 149mph. The car will go from 0 to 62 mph in 6.3 seconds and has a combined fuel economy figure of 61 mpg.
The BMW 1 Series is on sale now.